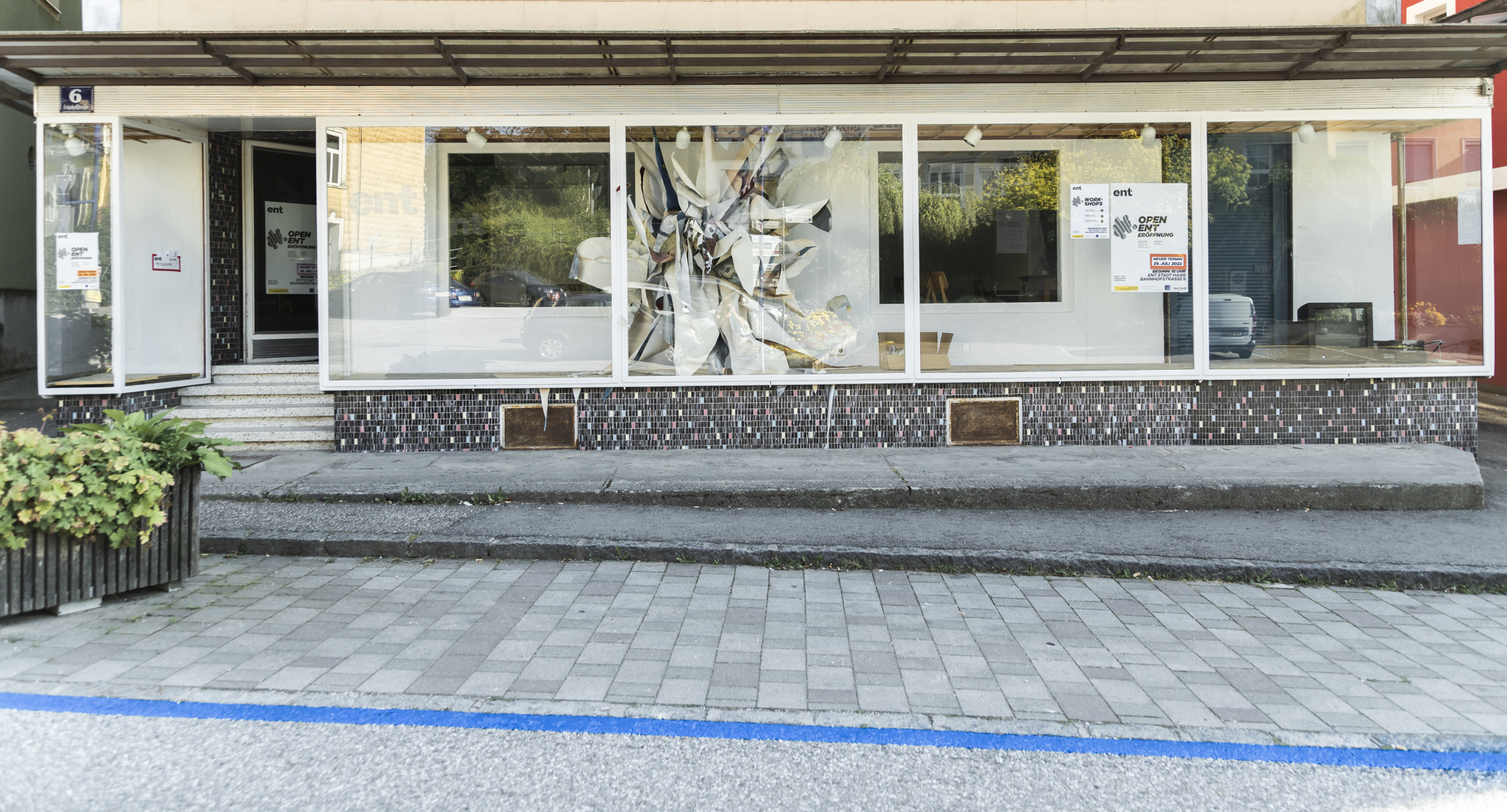 Einreichschluss:
Ausstellung:
Ort:
Einreichung an:
Rückfragen
Kriterien:
Unterlagen:
19. September 2022
18. November – 31. Dezember 2022
ent, Bahnhofstraße 6, 3350 Stadt Haag
kontakt@verein-ent.at
+43 664 92 36 918
Studierende und Absolvent*innen der Kunstuniversität Linz
Projektbeschreibung, Portfolio, Kostenschätzung
*****ENGLISH VERSION BELOW*******
Schaufenster richten unser Interesse üblicherweise auf Waren, die es zu verkaufen gilt. Die Auslage lenkt die Aufmerksamkeit der Passant*innen auch auf den Raum dahinter. Ein Schaufenster dient der Betrachtung, nicht dem Betreten. Es übermittelt eine Nachricht. Das Schaufenster ist ein Raum "dazwischen", weder außen, noch innen – es fungiert als ein Medium, ist mit einer Membran vergleichbar, die zwischen öffentlichem und privatem Raum schwingt.
Der Verein ent – Verein zur Förderung von Kunst und Kultur im ländlichen Raum hat Anfang 2022 mit der Renovierung eines Leerstands im Ortskern von Stadt Haag/NÖ begonnen. Ziel war es, einen Ort zu schaffen, der regionale Kunst- und Kulturentwicklung und den Zugang zu zeitgenössischer Kunst abseits von Ballungsräumen ermöglicht.
Als ehemaliges Handelszentrum der Region spielte der Ortskern von Stadt Haag historisch eine wichtige Rolle, besonders auch durch seiner Nähe zu Steyr und Linz. Das Haus, in dem der Verein neue Räumlichkeiten beziehen konnte, hat eine lange Tradition. Ursprünglich als Stall gebaut, beherbergte es seit jahrzehnten ein Kleidergeschäft und in den 1960er Jahren auch einen Friseursalon.
Die großflächigen Schaufenster des Vereinslokals sollen jährlich mehrmals wechselnden Ausstellungen Platz bieten. Die diesjährige Ausschreibung richtet sich an Studierende und Absolvent*innen der Kunstuniversität Linz, sowohl an Einzelkünstler*innen als auch an Gruppen.
Gesucht werden zwei bis vier ortsbezogene Arbeiten aller Disziplinen, die sich mit den örtlichen Gegebenheiten auseinandersetzen und sich den Themenbereichen "Schaufenster", "öffentlich-privat", "außen-innen" widmen.
Die Auswahl der eingereichten Arbeiten wird durch eine interne Jury des Vereins durchgeführt.
Die adäquate Vergütung durch ein Künstler*innen-Honorar ist in diesem Zusammenhang selbstverständlich, die genaue Höhe kann allerdings erst nach Erhalt aller Förderzusagen fixiert werden. Ebenso werden nach Bedarf und Möglichkeit Produktionskosten übernommen. Die endgültigen finanziellen Bedingungen werden transparent und zeitgerecht vor Projektbeginn kommuniziert.
Im beigefügten Plan finden sich die Abmessungen der Schaufenster und der zu bespielenden Fläche. Ein Besichtigungstermin kann ab sofort gerne mit Verena Mayrhofer [per Mail: kontakt@verein-ent] vereinbart werden. Das ent ist öffentlich mit dem Zug erreichbar, der Bahnhof Stadt Haag liegt nur einen 10-minütigen Fußweg entfernt.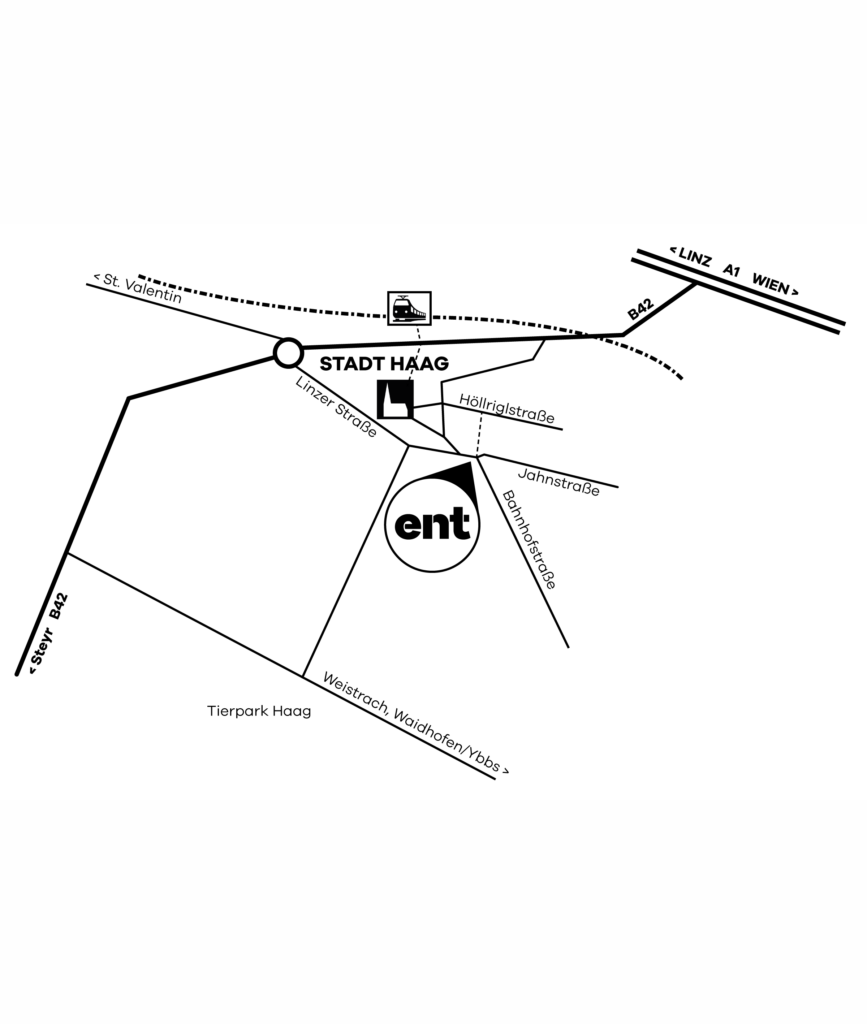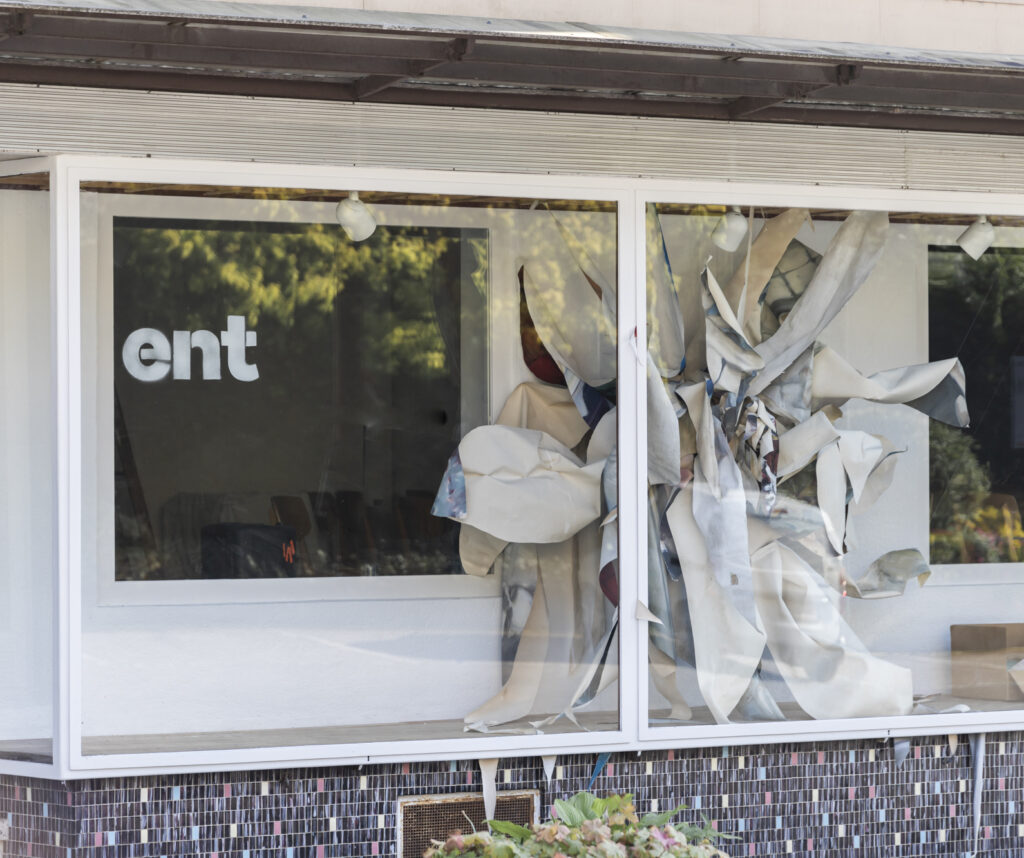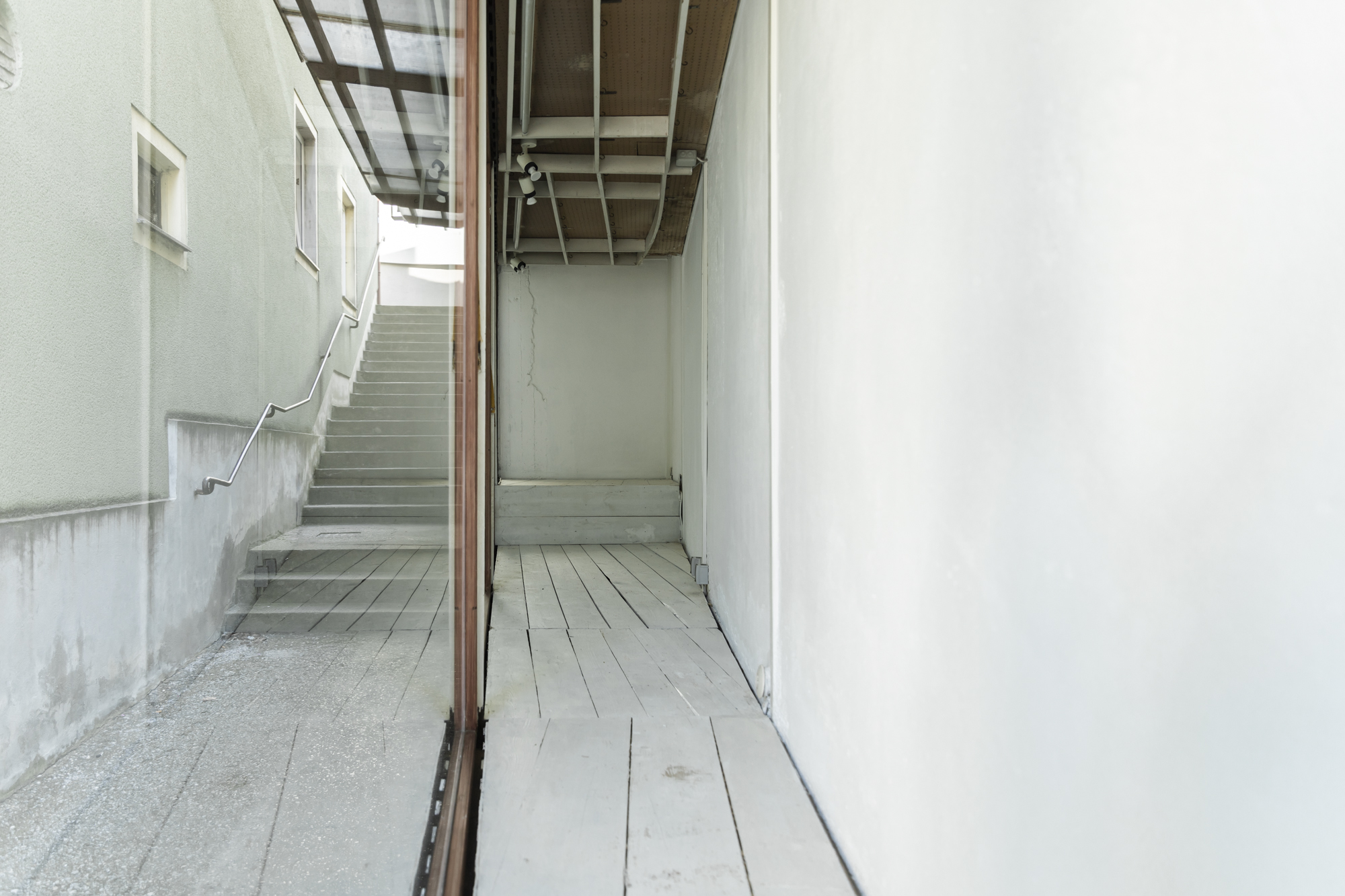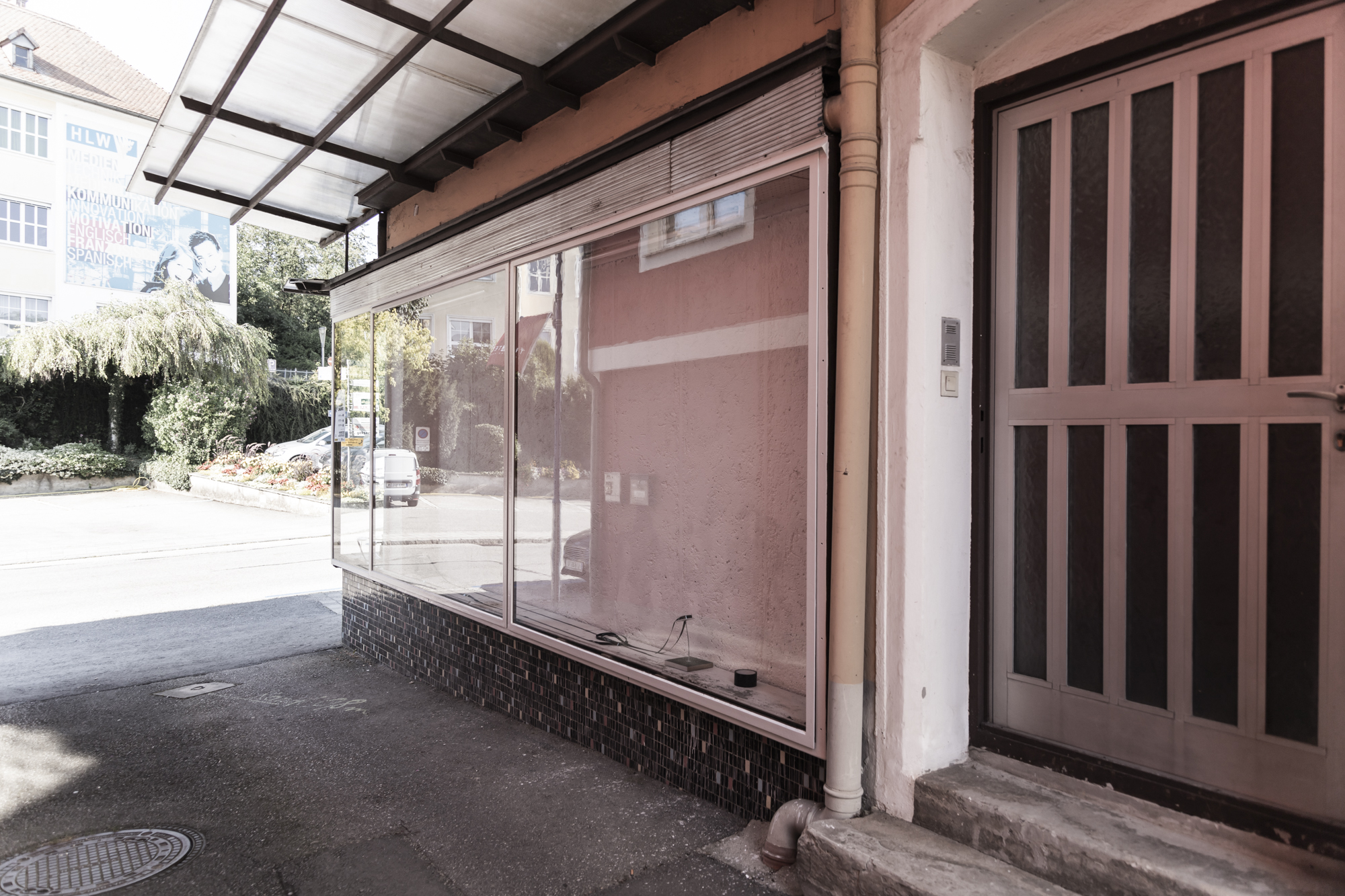 Deadline:
Exhibition:
Location:
Submission to:
Info:
Criteria:
Documents:
September 19, 2022
November 18 – December 31, 2022
ent, Bahnhofstraße 6, 3350 Stadt Haag
kontakt@verein-ent.at
+43 664 92 36 918
Students and graduates of the University of Arts / LINZ
projekct description, portfolio, estimated costs

Shop windows usually focus our interest on goods for sale. The display also draws the attention of passersby to the space behind it. A shop window is for viewing, not for entering. It conveys a message. The shop window is a space "in between", neither outside, nor inside – it functions as a medium, is comparable to a membrane that oscillates between public and private space.
The association ent – Verein zur Förderung von Kunst und Kultur im ländlichen Raum (Association for the Promotion of Art and Culture in Rural Areas) began renovating a vacant storefront in the town center of Haag, Lower Austria, at the beginning of 2022. The goal was to create a place that would enable regional art and cultural development and access to contemporary art away from urban centers.
As a former commercial center of the region, the town center of Stadt Haag played an important role historically, especially due to its proximity to Steyr and Linz. The house in which the association was able to move into new premises has a long tradition. Originally built as a stable, it housed a clothing store for decades and also a hairdressing salon in the 1960s.
The large display windows of the space will provide space for exhibitions that change several times a year. This year's call for entries is aimed at students and graduates of the Linz University of Art, both individual artists and groups.
We are looking for two to four site-specific works from all disciplines that deal with local conditions and are dedicated to the themes of "shop windows," "public-private," and "outside-inside.
The selection of the submitted works will be carried out by an internal jury of the association.
In this context, adequate remuneration in the form of an artist's fee is a matter of course, although the exact amount can only be fixed once all funding commitments have been received. Likewise, production costs will be covered according to need and possibility. The final financial conditions will be communicated transparently and in a timely manner before the project begins.
In the attached plan you will find the dimensions of the shop windows and the area to be covered. An appointment for a viewing can be arranged with Verena Mayrhofer [by mail: kontakt@verein-ent]. The ent is publicly accessible by train, the train station Stadt Haag is only a 10-minute walk away.